Full Range of Programmable Air Freshening Systems.
Odour control sprays contain malodor counteractants. Safe formulations approved for use under EU regulations.
Allowing flexible fragrancing, the Air Freshener units we supply give you complete control, delivering a customised solution for all applications. All the units Astral us are easy to programme and is set set on a 30 day or 60 day service. The fragrances can be dispensed when the customer requires it..
For Cleaner Smelling Wash Rooms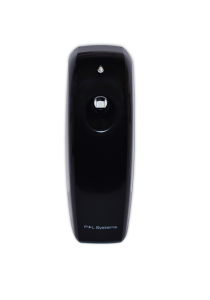 Air freshening units have a two part actuator nozzle for extra fine spray emissions.
This enables the fragrance to stay in the air longer than with conventional sprays.
Oxy-Gen Powered & Hyscent
The healthiest, most human friendly commercial fragrance solution ever developed.
The Future of Commercial Air Care.
Oxy-Gen Powered:
Fuel cell technology has been around for a while in applications that range from large scale power production to miniature fuels cells used in portable devices to power satellites, computers and medical devices such as hearing aids and pacemakers. Unlike traditional batteries they are essentially simple and operate silently, with few or no moving parts. They are eco-friendly and don't produce any harmful emissions.
Oxy-gen powered fuel cells are an innovative development of hydrogen-powered fuel cells which improves the reliability of the air care system to deliver pure fresh fragrance and odour neutraliser continuously for the duration of the cartridge life.
The patented gas cell releases a precise dosage of Oxygen. The Oxygen is pumped into the sealed chamber and displaces the fragrance from the bag, delivering a precise dose of fragrance onto the emanator pad. Fragrance molecules are dispersed by the natural air movement within the area or room.
Technologically advanced to perform at levels which are un-achievable by traditional aerosols.
100% Eco Friendly, 100% Natural Ingredients, 100% Pure Essential Oils, NO Harmful Chemicals
Hyscent:
Features & Benefits
Fragrances last 60 days
Odoraxe technology destroys odours, rather than masking
The most consistent fragrance output ever attained, unlike aerosols which drop to the floor early on in performance cycle.
Dry refills – no mess
Completely non Hazardous – Pure essential oils WITH NO MESS.
Dual or Solo dispensers, gives options of alternating between two fragrances – combating 'olfactory numbness'.
Silent operation – no more mechanical 'squirts'
Eco friendly, proactive and revolutionary. Giving a unique opportunity to offer commercial air care into all areas of the building:
Washrooms
Healthcare buildings
Care homes
Schools
Offices
Receptions & lobbies
Restaurants
Food production
Retail
For more information on our range of Automatic Air Freshening Systems,
Please Click Here to contact us or Call Now on 0870 871 0021
A Family Run Business Fulfilling the Hygiene Needs Nationwide Since 1976